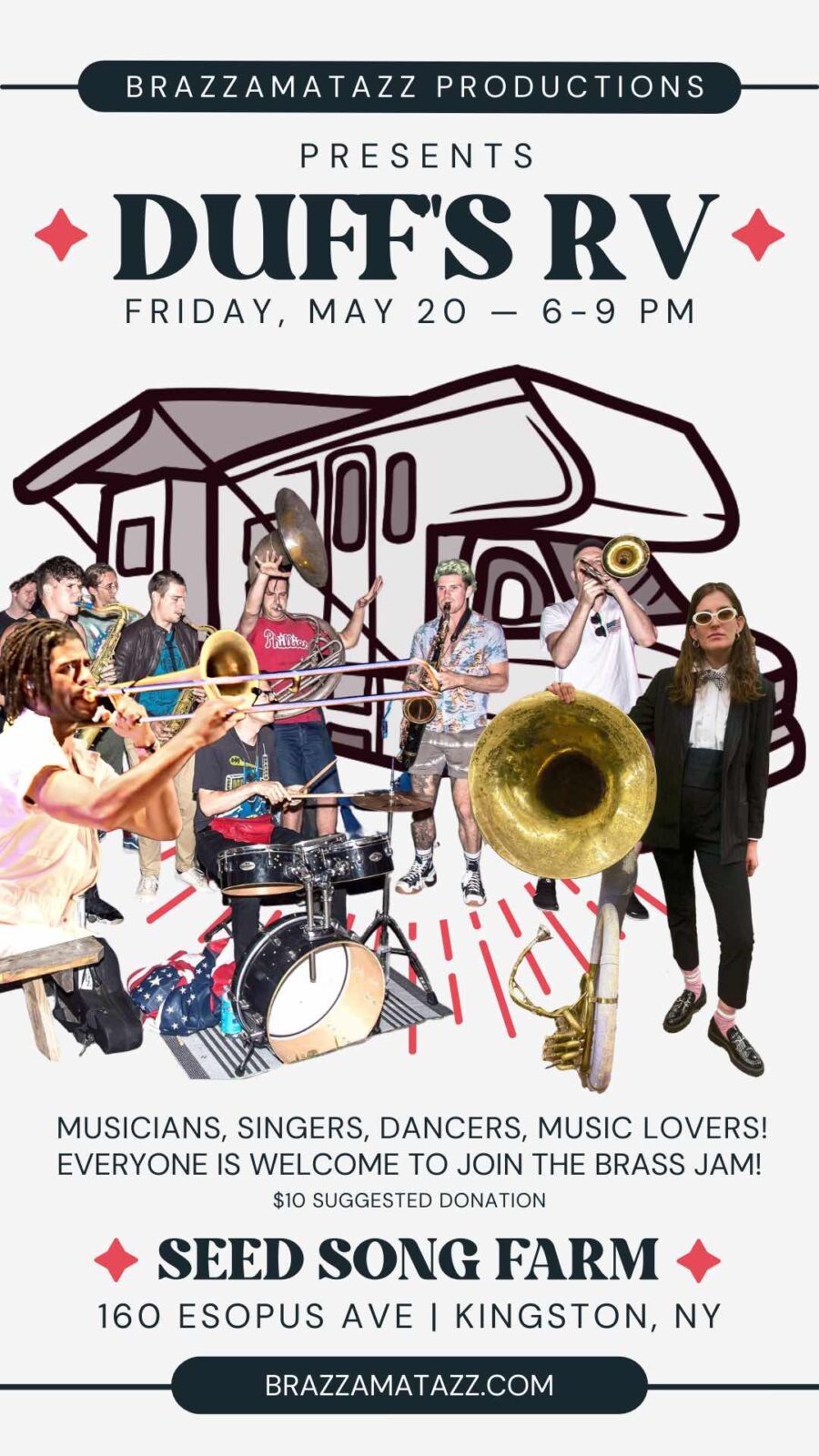 🎺 🌱 Come play, dance and hang with the good people from DuffsRV @duffsrv on Friday Night at Seed Song Farm @seedsongfarm in Kingston!
Steven Duffy @stevendduffy is a tuba/sousaphone player in NYC, as has performed with Jon Batiste, Red Baraat @redbaraat, Brass Against @brassagainst, High and Mighty Brass @highandmightybrass, Shag Horns @shag_horns, Raya Brass Band @rayabrassband, West Philly Orchestra @wpobrass and more.
In the summer of 2021, Steve started to throw parties and invited his friends to jam and eat burgers on the streets of Brooklyn.
DuffsRV was born.
With a makeshift stage out of open back door, a recording studio and a musician's green room with a bar and kitchen, DuffsRV has become THE place where brass musicians meet and play and get to know each other in secret hideaways around the country.
Steve and his friends Darius Christian @darius_christian and Nora Nalepka @noranalepka will call tunes that the majority of those who show up to play can jam on.
Come with your friends, family, kids, bandmates, dance partners! Everyone is welcome! Drummers and singers get a special super welcome!
Duff's RV and Friends @ Friday Night Happy Hour and Night Market
Friday, May 20, 2022
5:30 pm – 9:30 pm
$10 Suggested for the Performers
No One Turned Away for Lack of Funds
Seed Song Farm and Center
160 Esopus Ave
Kingston, NY 12401
Map: https://goo.gl/maps/TebwTEELkN6suYcYA
Website: https://www.seedsongfarm.org/
duffsrv #outdoordanceparty #brassjam #musicjam #danceparty #seedsongfarm #kingstonny #brazzamatazz