Feb 24 ~ New Orleans/Balkan Mountains Mardi Gras Party at Colony Woodstock 🎉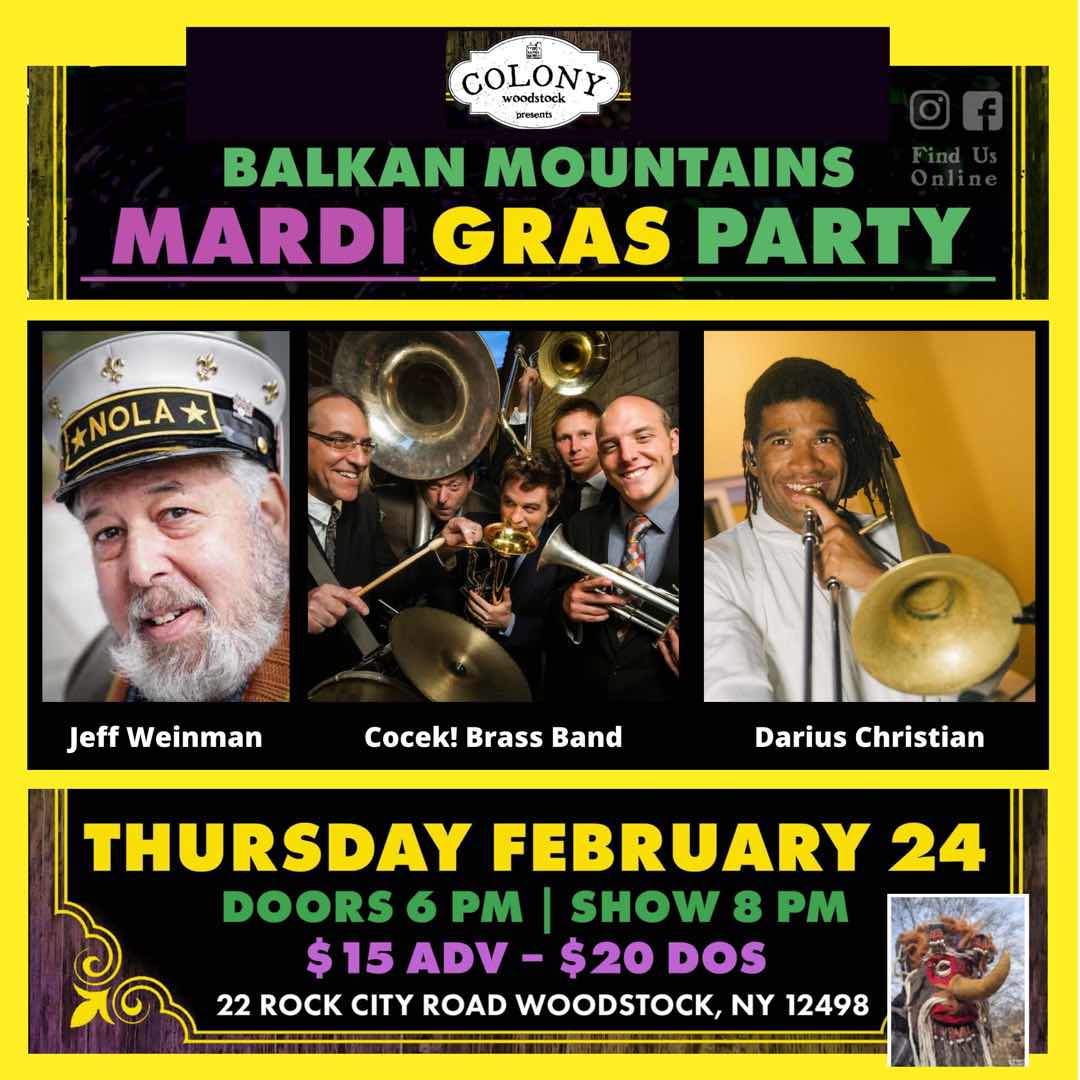 Join the Party!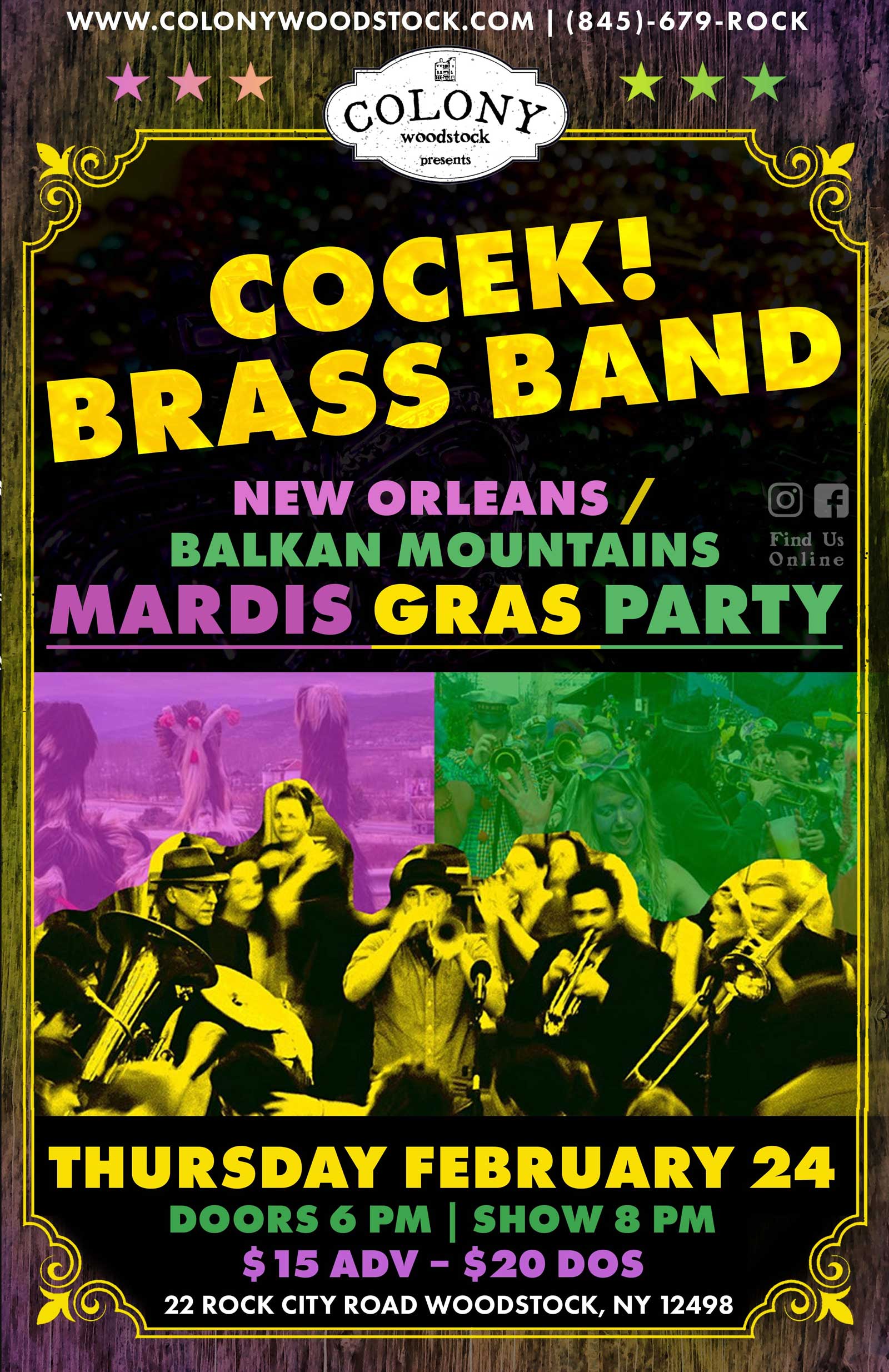 Time for A Second Line!
Time for A Second Line!
Spring IS coming! It is time to celebrate!
With that in mind…. Brazzamatazz Productions and Colony Woodstock invite you to….
….chase evil winter spirits away and shake off two years of cabin fever with a night of spirited dancing, music and merriment in a New Orleans/Balkan Mountains Mardi Gras mashup at Colony Woodstock on Thursday, February 24.
In Bulgaria, this ritual is called "Kukeri" and these ancient, pagan traditions have been enacted throughout Europe for thousands of years.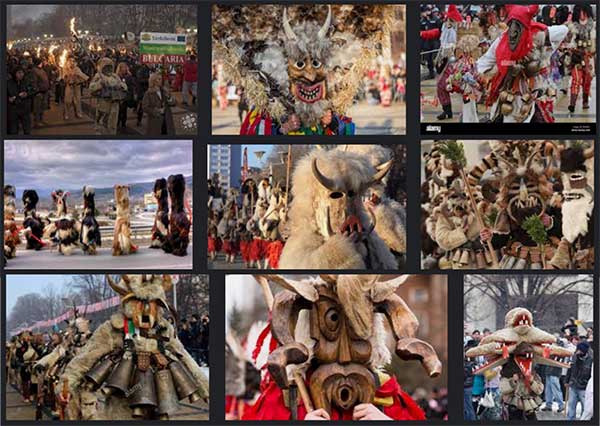 In New Orleans, this tradition is called "Mardi Gras", which is French for "Fat Tuesday", reflecting the practice of the last night of eating rich, fatty foods before the ritual Lenten sacrifices and fasting of the Lenten season that leads into spring.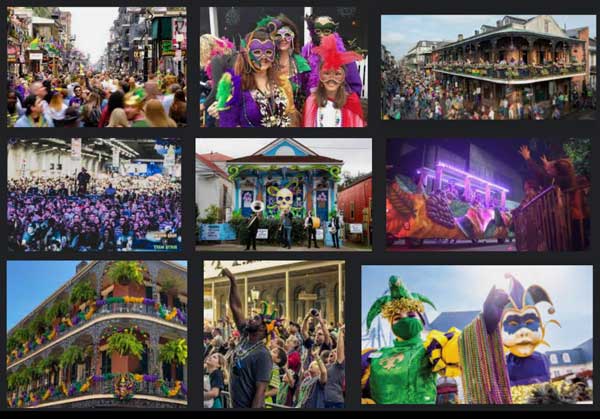 Since we love BOTH cultures, we thought it would be great to have a New Orleans/Balkan Mountains Mardi Gras mashup when we heard that our friend Sam Dechenne and his band Cocek! Brass Band would be passing through town on Feb 24. So I set up this party at Colony.
We then invited the wonderful pianist Jeff Weinman to open the show and the all-around amazing Darius Christian to round out the evening with a DJ dance set.
We've been wearing masks for SOOOOOO long…yes, during this seemingly endless pandemic, but also since the dawn of civilization. Let's keep this tradition alive, here, in the Hudson Valley.
Schedule
6 pm ~ Doors – Colony Bar & Kitchen will be open for some fine eating and delicious cocktails
7:45 pm ~ Special Guest Jeff Weinman will kick the evening off with Mardi Gras tunes around the upright piano.
8:30 pm ~ Boston-based Cocek! Brass Band will play upbeat Eastern European and NOLA tunes from the main stage in the Colony ballroom
9:45 pm ~ Kingston-based producer, songwriter, instrumentalist and educator Darius Christian will spin New Orleans and Eastern European brass-centric dance tunes until closing
10:45 pm ~ last call
Jeff Weinman
The party starts at 7:45 pm in the bar with Jeff Weinman playing the funkiest New Orleans piano this side of Basin Street. Jeff swings hard with trad jazz blues and stomps from Jellyroll Morton, Sidney Bechet, and Louis Armstrong. He'll also be channeling the wild Mardi Gras funk tunes made famous by Professor Longhair!
Sam Duchenne and other members of Cocek! Brass Band will be joining Jeff towards the end of the set.
Cocek! Brass Band
Cocek! Brass Band plays original compositions inspired by music of the Balkans, New Orleans and other brass bands from around the world. You can come dressed as a pagan monster covered in bells like you might see in a village in Serbia or go full out in New Orleans finery! But however you dress, be prepared to dance!
Simply put…this a Mardi Gras party you don't want to miss!
"Half serious as a heart attack and half hilarious with enough singular clevernesses to provoke a college course in the study of them" – Mark Tucker, FAME
In performance spaces ranging from hollowed out warehouses and arts spaces in Boston and NYC to the Kennedy Center in D.C., The Burlington Discover Jazz Festival, WorldFest in Louisville, KY and the 11th Annual NY Gypsy Music Festival, Cocek! can be found sprinkling their magic dust on audience members all over the world.
Bandleader Sam Dechenne started the ensemble in the Winter of 2014 and composes all the music for the band. The music of Cocek! Brass Band is influenced by Eastern-European and New Orleans dance songs, Afrobeat, Klezmer and elements of reggae and Western classical pieces.
Cocek! Brass Band has released two full length albums and in 2018 put out a new single every month, each one featuring a guest artist from across the country. Painters, instrumentalists, designers, cartoonists, singers and electronic producers were each featured throughout that year in a one-of-a-kind project.
Darius Christian
Baltimore raised and Brooklyn reborn, Darius Christian is a genre-bending force of nature with fresh brassy and agile trombone stylizations, rich vocals. spoken word, and insatiable jubilant energy.
You've heard him with Macklemore, Miley Cyrus, Jonas Brothers, Solange, Adele, Rihanna, DNCE, Bastille, Ricky Martin, Macy Gray, and Andy Grammar.
You've watched him on America's Got Talent, The Tonight Show, Good Morning America and Saturday Night Live. You've heard his music scores on Vice and you may have even seen him in campaigns for Nike, Adidas, Tommy Hilfiger, MasterCard & Cadillac.
The Details
New Orleans/Balkan Mountains Mardi Gras Party
Thursday, February 24, 2022
8 pm
$15/advance ~ $20/day of show
Colony Woodstock
22 Rock City Rd
Woodstock, NY 12498
Map
Colony Website
Facebook Event
Buy Tickets

Matthew "Max" Fass
Director/Producer
Brazzamatazz @ Seed Song Farm
July 23, 2022
Kingston NY
917-497-7852
matthewfass@gmail.com
=======================
Next Event
🎉 Mardi Gras Party 🥳
Feb 24 in Woodstock, NY
At Colony Woodstock
@colonywoodstockny
@cocek_brass_band
@darius_christian
@weinmanjeff
@brazzamatazz
https://www.eventbrite.com/e/cocek-brass-band-new-orleansbalkan-mountains-mardis-gras-party-tickets-252410355167
=======================
Links
🎺 Brazzamatazz Productions
https://brazzamatazz.com/
https://www.instagram.com/brazzamatazz/
https://www.facebook.com/brazzamatazz/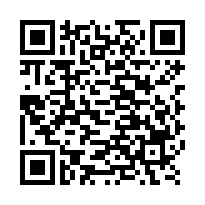 Ya Don't Want to Miss THIS!